Walking and hiking
in the mountains in Radstadt
Family walking holiday in the heart of the Salzburger Land
Active summer holiday with extensive walks for everyone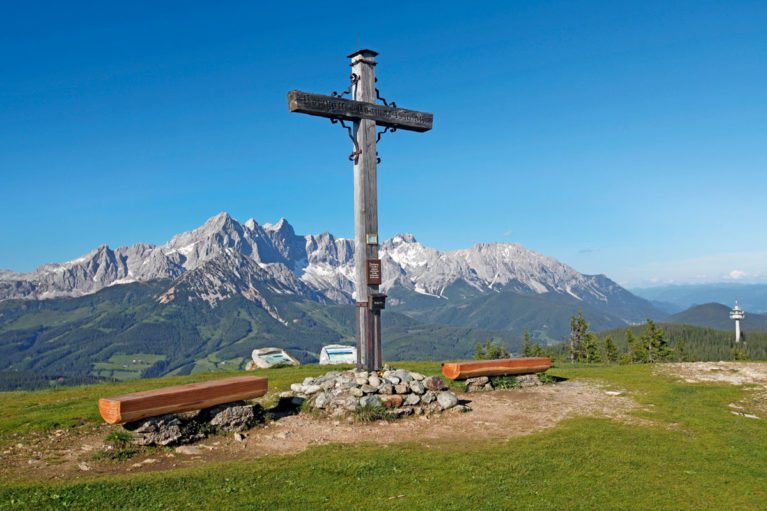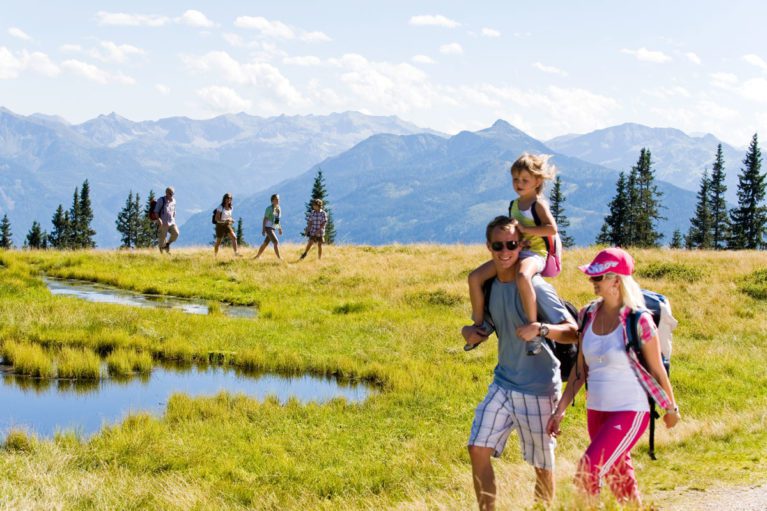 The Family Hotel Taxerhof nestles gently in the green valley floor and makes an ideal base for lovely walks in the picturesque mountain landscape of the iSalzburger Sportwelt. To the north the Dachstein and to the south the Radstädter Tauern – a walking paradise for beginners, pleasure walkers and experieced hikers. Well-marked paths lead straight from the hotel through gentle forests, over lush, green meadows to clear mountain lakes and impressive mountain peaks. Recharge your batteries in the mountains around Radstadt and experience nature up close.
Well-marked and cleared walking routes
Mountain huts open for refreshments offering home-made specialities, hotel's own mountain hut in Zauchensee
Salzburger Almenweg (long-distance trail) leads through Radstadt (total of 350 km in length, from the Tennengebirge mountains over the Tauern to the Dachstein)
Popular hike to the Bürgerbergalm on the Rossbrand (1.768 m)
Weekly guided walks – meeting-point at the Radstadt Sports Centre
Radstädter Wanderbus – discount with the Salzburger Sportwelt Card
Hiking and nordic walking with the whole family – easy trails for all ages
A family holiday in the mountains makes kids faces light up. Surrounded by colourful nature there's plenty to explore. – jump over little streams, watch butterflies and bees, build a stable with moss and pine cones and collect juicy red berries. Walks and hikes on gentle paths along blooming meadows and through fairy-tale forests are memorable experiences for children. Start a great walk right from the Family Hotel Taxerhof.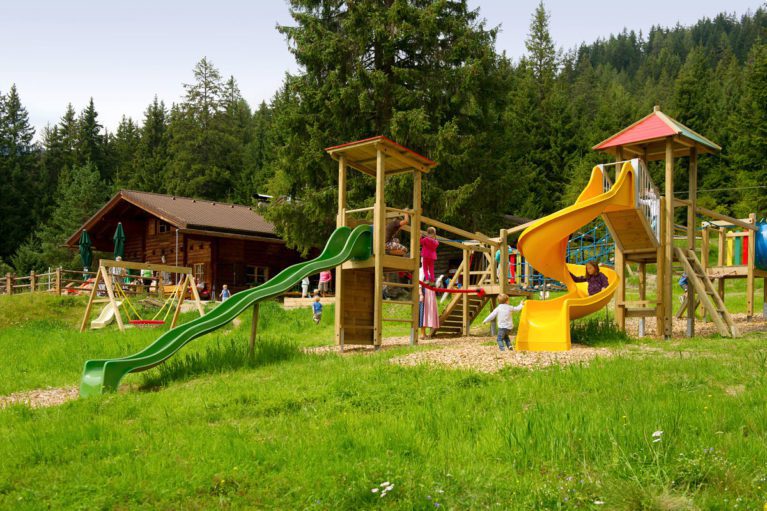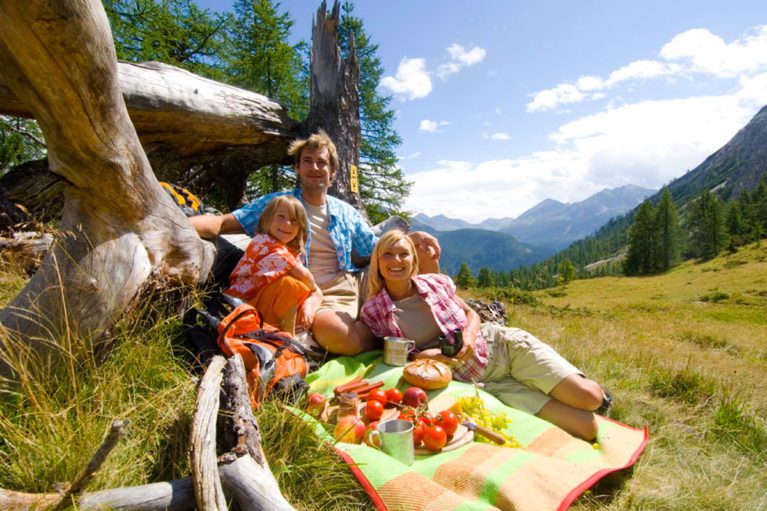 Mountaineering and climbing in the Salzburger Sportwelt region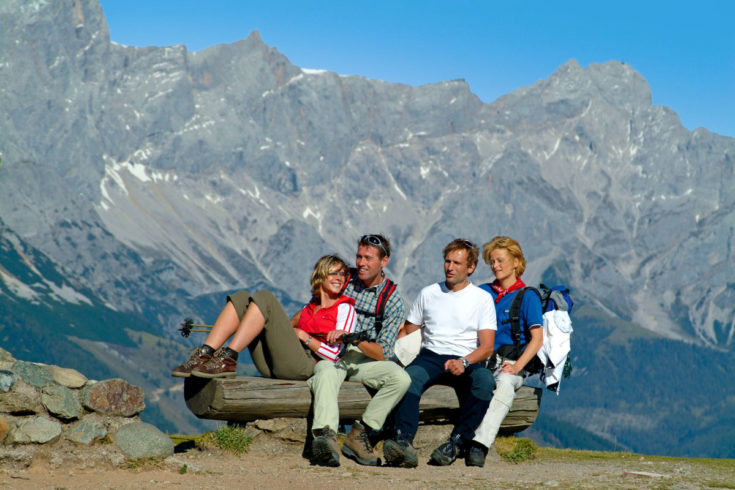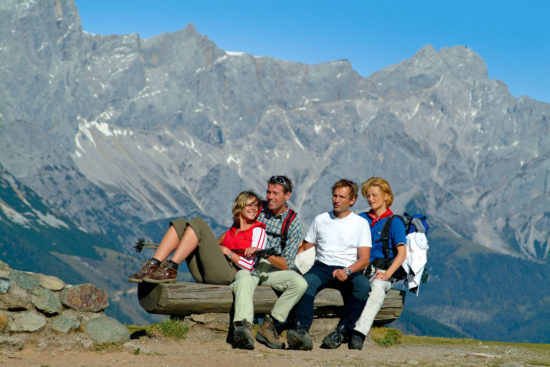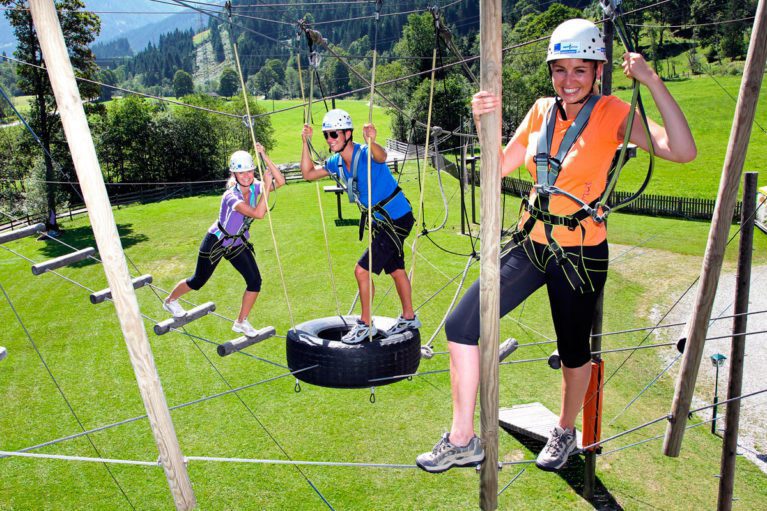 The wide variety of alpine trails, hiking paths and climbing routes of all levels of difficulty in the Salzburger Sportwelt attract keen climbers and mountaineers. Experienced alpinists can try out to sheer rock faces of the imposing Dachstein and Hochkönig mountain. Whether as a group or a family – a visit to the nearby high ropes courses is great fun. The indoor climbing centre in Wagrain, the largest in Salzburg, is suitable for beginners, all-rounders, youths and families.
Outdoor climbing possibilities: Dachstein, Hofpürgelhütte, Hochkönig, Tennengebirge
A number of secured routes in the Salzburger Sportwelt
Indoor climbing centre in Wagrain with 220 m2 climbing area
Climbing trails, sports climbing, alpine climbing
Adventure courses and caving tours
High ropes courses in Flachau and Altenmarkt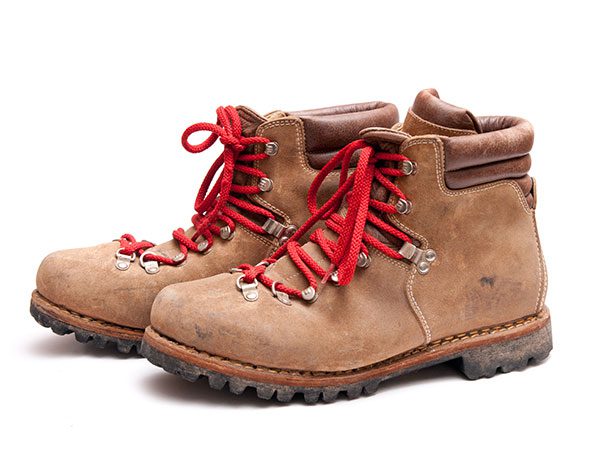 The Taxerhof presents – the 15 best hiking tours around Radstadt